A built-in FTP, SSH, WebDAV client enables EngInSite Perl Editor to access and work directly with files located remotely on almost any server. You can run your script on your production server. You can run it on the integrated web server with Perl support. You can run it on local Apache or IIS server. You can run it as a plain Perl script. You can see the output in any browser or in the Command Prompt or in the Output window.
Do it the way you like - this, after all, is what TIMTOWTDI ("There is More Than One Way to Do It") is. The Perl Way!


EngInSite Perl Editor features a visual editor/debugger similar to Microsoft Windows programming tools like Visual Basic or Delphi.
This integrated debugger enables you easily to set both absolute and conditional breakpoints, single-step through code, and inspect values of variables in your script. These features--especially when combined with EngInSite Perl Editor's Local Server--make finding problems in your code very easy.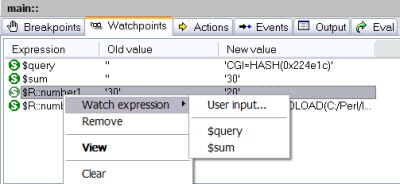 If you ever developed sophisticated Perl projects you will appreciate the ability to navigate functions, scalars, arrays, and hashes in your code.
The Perl Editor includes features like color syntax highlighting for PERL, PHP, CSS, HTML, and JavaScript -- features that make writing and understanding your code easy.
New in EngInSite Perl Editor version 3: